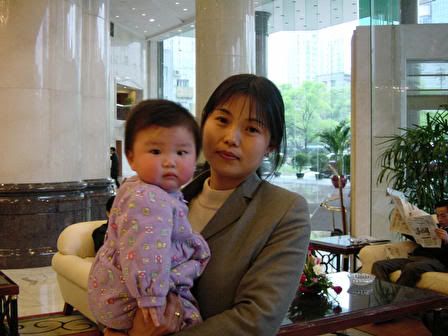 Gotcha Day - 2001
March 24-
Today is Suzanne's Gotcha Day!
Some of you may not have any idea what a Gotcha Day is, so I will tell you.
From Suzanne: "Gotcha Day is a special day when I was a baby. That day is the day my Mom and Dad met me. Since we celebrate it today I get a special present that was bought in China during the time that we became a family. I think it is very special to have a Gotcha Day!"
Seven years ago today we were given a very precious gift. We had flown over the Pacific Ocean and spent a few days in Bejing and then driven over a very long and bumpy road.
I can't believe that it has been 7 years. This little kiddo is an assume kid. She is smart, nice, has many friends! She loves to read. She loves art! She has a fabulous imagination. She is a great writer. She is a Girl Scout, well a Brownie actually. She loves school.
Gotcha Day is very special is our house. We celebrate it like a holiday. When we were in China w purchased 18 gifts. One gift given on each Gotcha Day anniversary. We will have dinner with family and a couple of close friends. Except this year it will be a few days later than normal. It's just a busy week. Suzanne gets really excited and loves spending time with friends and family.
Another thing we think about is Suzanne's birth family. They will never get to see her grow into the wonderful little girl we now know or woman she will become.
I know that I think about that every day.
HAppy Gotcha Day Kiddo
wai ai nei